Lorena Babcock Moore
SOLD Blacksmithing, Jewelry, and Lapidary Work
Forged Iron Necklaces
Click thumbnails for larger photos.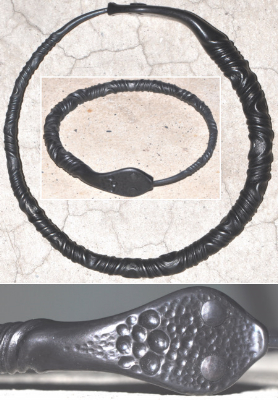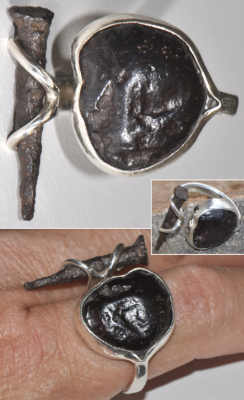 Uroboros Bangle Forged from an 8" cut nail, 2010. 3" inner diameter.
Ring: Ogun as a Silver Miner Hot-forged sterling silver, antique handforged nail, natural goethite ventifact (wind-polished pebble).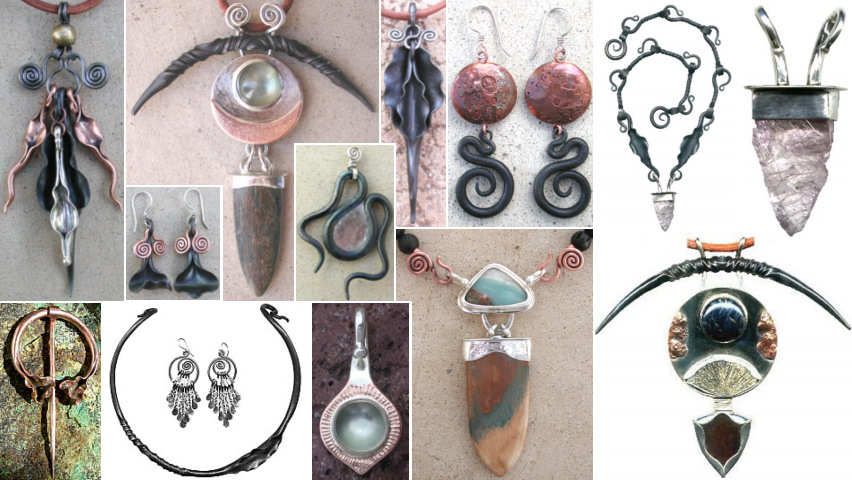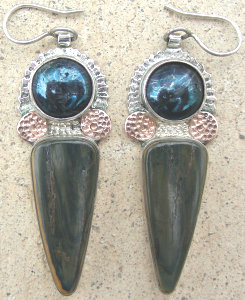 BLADES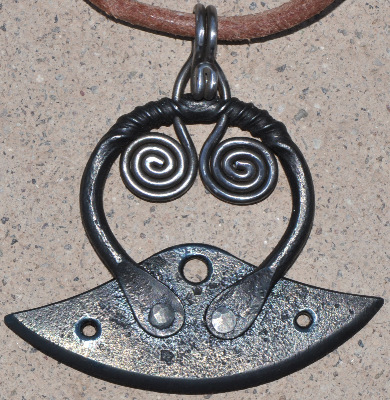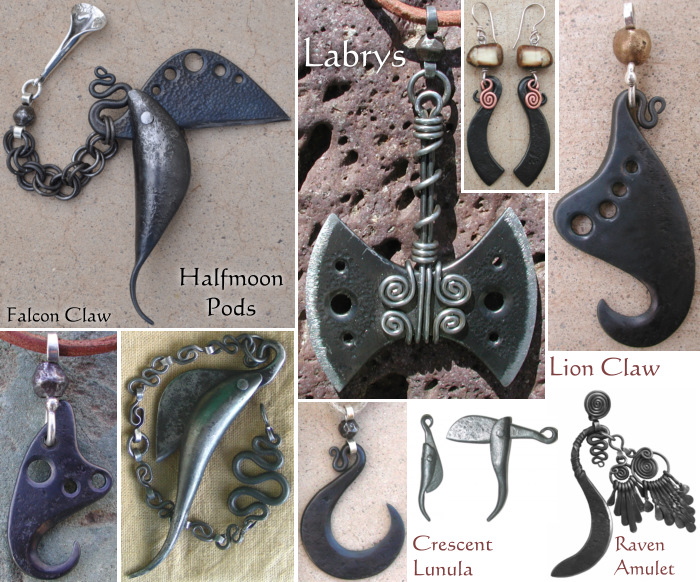 Women's Ritual Knives: Primitive blades handforged from 1095 high-carbon steel.
BELLS
| | | | | | |
| --- | --- | --- | --- | --- | --- |
| | | | | | |
| Cones | Flared Cones | Curly Cones | Pods | Nested Triangles | Bell In the Forge |

HOT-FORGING A CONE BELL
1. Flat triangle of 1/8" mild steel plate.
2. Wide part of triangle is hammered thin and flat.
3. Hammered section is curled into a cone.
4. The tip is drawn out into a narrow, four-sided, tapered point.
5. The point is hammered until it is round in cross-section and the end is filed smooth. The cone is opened out.
6. The point is curled into a loop, the cone is given its final shape, and the piece is quenched in water.
7. The bell is wirebrushed to remove firescale. Rough spots are filed off. The polished metal is very shiny.
8. The bell is returned to the forge, heated until it turns black, and quenched in peanut oil to give it a glossy black finish.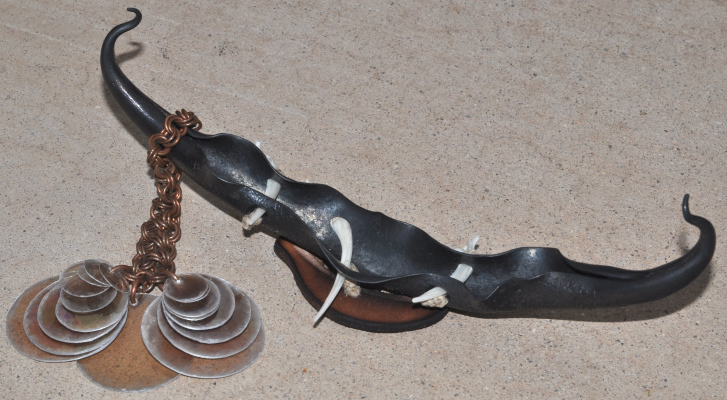 SPIRIT BOAT: Forged iron, catfish bones, hemp cord, leather, recycled copper wire, mica discs.

COPPER FLUTE: Shakuhachi style, but half the size of the traditional bamboo version.
Five holes (one in back), pentatonic minor scale. Recycled copper tubing.
---
In Memoriam: Whittaker Freegard
On March 10, 2006, I lost a beloved friend and the world lost an outstanding master gem carver. Whittaker specialized in gemstone flutes and ocarinas, as well as beautiful nature-inspired netsuke and ojime. He worked in various gems, quartz crystals, and several types of jade (including Guatemalan blue jadeite, the recently re-discovered stone of the Olmecs.) His art reflects his love of the earth and personal connection with the stones. It literally embodies the strength of his heart and will, and his pieces are treasures that transcend all time and culture. As a friend, his gracious warmth, humility, and deep gentleness were as precious as his creative talent.
Flint Nodule Ocarina in Key of F by Whittaker Freegard, 1995.
I commissioned this piece. It is a river pebble from Salisbury, England.
He left part of the stone rough and natural, and polished the rest to reveal
iron oxide patterns in the hydration rind and fresh gray flint underneath.
It is a powerful shaman's tool with a shrill, wild, primitive voice.