Lorena Babcock Moore
SOLD Blacksmithing, Jewelry, and Lapidary Work
More on Flickr
Bells on Youtube

Forged Iron Necklaces
Click thumbnails for larger photos.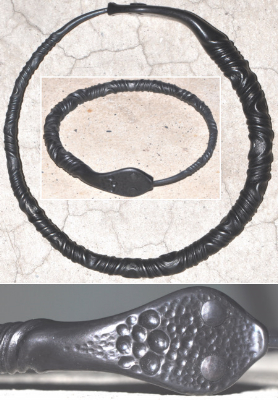 Uroboros Bangle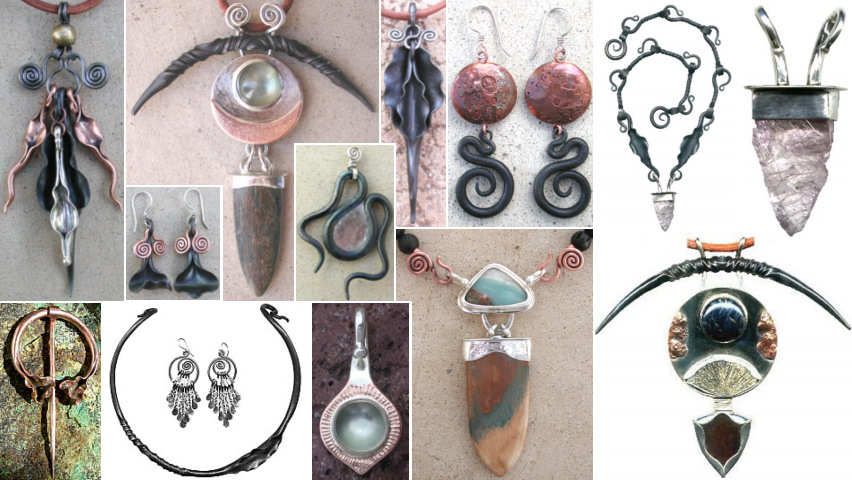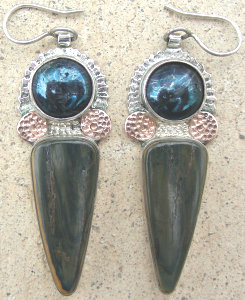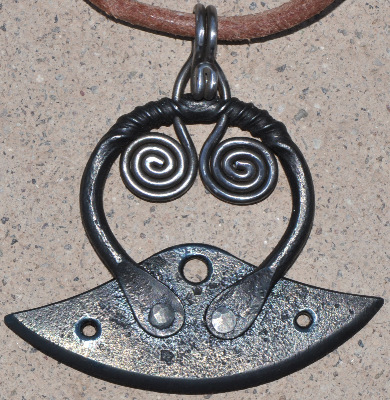 HOT-FORGING A CONE BELL
1. Flat triangle of 1/8" mild steel plate.
2. Wide part of triangle is hammered thin and flat.
3. Hammered section is curled into a cone.
4. The tip is drawn out into a narrow, four-sided, tapered point.
5. The point is hammered until it is round in cross-section and the end is filed smooth. The cone is opened out.
6. The point is curled into a loop. The cone is given its final shape and quenched in water.
7. The bell is wirebrushed to remove firescale.
8. The bell is returned to the forge, heated until it turns black, and quenched in peanut oil to give it a glossy black finish.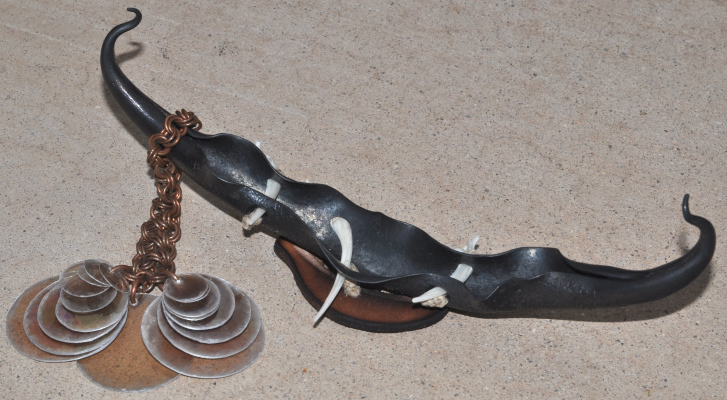 SPIRIT BOAT: Forged iron, catfish bones, hemp cord, leather, copper wire, mica discs.
---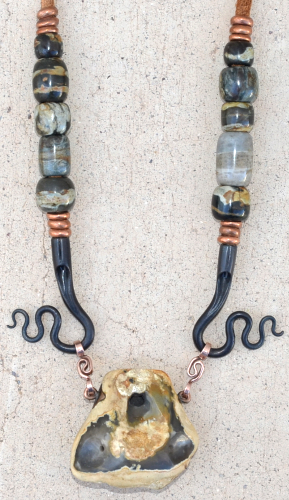 Stone Flute Necklace
Forged iron, copper tube beads, handcarved calcsilicate hornfels beads (Helvetia, Santa Rita Mts., Arizona), 6mm leather cord.


In Memoriam: Whittaker Freegard
On March 10, 2006, I lost a beloved friend and the world lost a master gem carver. Whittaker specialized in gemstone flutes and ocarinas. His art reflects his love of the earth and personal connection with the stones. It literally embodies the strength of his heart and will, and his pieces are treasures that transcend time and culture.
Flint Nodule Ocarina in Key of F by Whittaker Freegard, 1995.
River pebble from Salisbury, England.