The Lastwater Collection: STONE BEADS
From Lastwater Sanctuary, a private nature preserve
in a remote canyon in the Santa Rita Mountains of southern Arizona.
Handcarved by Lorena Babcock Moore, artist/geologist
HOW TO PURCHASE:
E-mail
PAYMENT TERMS: Paypal only, US dollars, US addresses only.
Prices do not include postage.
SHIPPING: USPS Priority Mail.
NO RETURNS. I try to describe and photograph items accurately.
I welcome questions and am happy to supply additional photos or information about my work.
If you are in the Tucson/Green Valley area, pickup MAY be an option; please inquire.

I have been carving stone beads from southern Arizona rocks since 2010.
My keepsake talismans are inspired by ancient beads, and have an earthy yet refined presence.
They are softly polished, inviting to hold and easy to wear.
They offer a unique connection to the land in which they were found.
Holes are bevelled and polished, with no sharp edges, so the pieces can be strung safely on many different materials:
Hemp, silk, or cotton cords, leather, fabric, or even hair.
Pendants shown here are supplied as pictured, with a 2mm natural round leather cord.
Companion beads are carefully chosen from my collection, or specially made for each pendant.
"Santa Rita Green & Purple" is a common theme in my designs, since these colors are often found together in the rocks,
plants, hummingbirds, and insects in this mountain range.
ETHICALLY SOURCED AND CRAFTED:
My stones are collected as pebbles from wash gravels, not mined or broken from outcrops.
I do all the collecting, cutting, and jewelry design myself, using American-made equipment where possible.
Each bead or pendant is individualy cut and polished.
My lapidary machines use water, not oil. The graywater is used to irrigate native plants for restoration projects at the sanctuary.
THE STONES
LASTWATER GRANITE
Cut from hundred-year-old chips from a historic granite quarry that was a source for gravestones in Tucson, AZ in the early 20th century.
This small intrusion is unique for its extremely fine grain size, warm pinkish gray color, and unusual granophyric composition..
LASTWATER GREENSTONE
Small intrusions of metamorphosed basaltic rocks occur in granite throughout the Santa Ritas but are uncommon.
Iron-magnesium silicates such as chlorite mica, epidote, and hornblende give the rock a warm dark green color.
TREMOLITE CALCSILICATE "JAGUAR STONE":
This very hard, opaque rock is composed of the same mineral as nephrite jade, but forms in a different geologic environment.
Calcsilicates crystallize in a reaction zone when granite intrudes limestone.
Tremolite is typically pale gray or greenish, but the Lastwater material is unusually colorful and is often striped or spotted.
Some pieces are partly silicified due to metamorphism and are actually"tremolite jasper".
The look and feel of polished pieces is similar to jade.
RHYOLITE: The volcanic equivalent of granite, this pink, purple, or dark red rock is abundant in the Santa Ritas,
including the summit of Mount Wrightson and many of the large boulders in Madera Canyon.
Rhyolite pebbles in the wash at Lastwater are mostly from the northern Santa Ritas.
QUARTZITE: Several layers of this metamorphosed sedimentary rock occur in the Santa Ritas.
It is composed of quartz sand grains cemented with more quartz.
Hard and resistant to weathering, it is one of the most enduring stones, and is found in gravels throughout the range.
Usually gray, but inclusions of hematite (iron oxide) may give it a pink or purple color.

Lastwater Granite disc with Greenstone beads: $225
DISC: 2 3/16" across. 1/8" thick at top, 3/16" thick at bottom.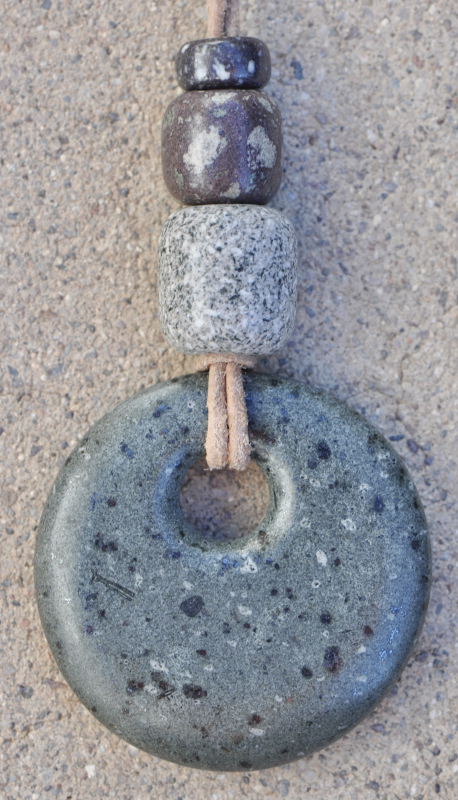 Lastwater Greenstone disc with Granite and Rhyolite beads. $225
DISC: 2" across, 1/4" thick at top, 3/8" thick at bottom.
Larger bead has white feldspar crystals and flecks of green epidote.
Smaller bead has tiny white feldspar crystals.

Lastwater Jaguar Stone (Tremolite Calcsilicate) with Rhyolite beads. $225
DISC: 1/3/4" across, 1/4" thick.
Green inclusions on the disc are epidote, chlorite, and diopside.
Larger purple bead has tiny white feldspar crystals.


Lastwater Jaguar Stone (Tremolite Calcsilicate) with Quartzite Bead: $225
1 11/16" long (just under 1 3/4") x 13/16" wide x 1/8" thick.
Dark brownish-black with a beautiful bluish-green edge stripe from the natural weathering rind.
Bicolored pink/purple quartzite bead.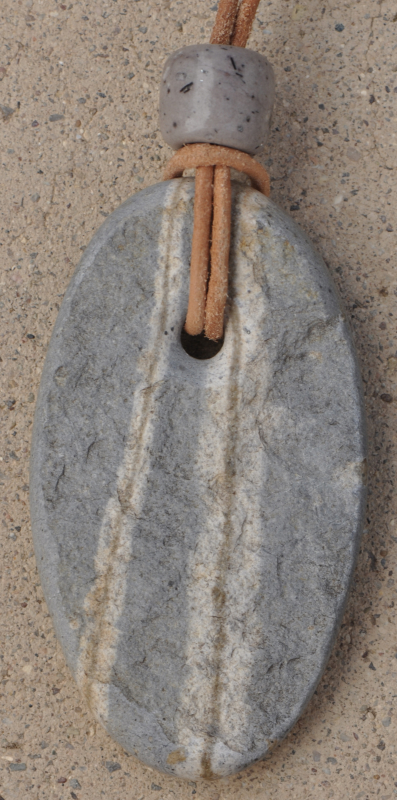 Rhyolite Natural Surface with Polished Edge and Rhyolite Bead: $130
2. 1/2" long x 1 1/2" wide x 1/8 - 1/4" thick.
One-of-a-kind natural rhyolite flake with two veins. Polished on the edge only. Natural and unaltered except for the drilled hole.
Both sides are shown here.
Flat Fringed Deerskin Pouch or Medicine Bag $85
6.5" total width, 4" total length, on 32" lace.
Very soft deerskin, handcut and sewn.. "Saddle" color. The front has a piece of the natural edge stitched on to weight the flap.
Knot ends were left long for appearance and/or for the buyer to add their own ornaments.
Leather gri-gri/medicine/amulet/talisman bags are used all over the world.
My designs are based on the shapes of available leather and my personal preferences.
T hey are not intended to represent any particular cultural style.

All work, photos, and text copyright 2021 by Lorena Babcock Moore.
Artwork HOME