The Lastwater Collection: STONE BEADS
From Lastwater Sanctuary, a private nature preserve
in a remote canyon in the Santa Rita Mountains of southern Arizona.
Handcarved by Lorena Babcock Moore, artist/geologist
HOW TO PURCHASE:
E-mail
PAYMENT TERMS: Paypal only, US dollars, US addresses only.
Prices do not include postage.
SHIPPING: USPS Priority Mail.
NO RETURNS. I try to describe and photograph items accurately.
I welcome questions and am happy to supply additional photos or information about my work.
In the Tucson/Green Valley/Vail area, pickup MAY be an option; please inquire.

ETHICALLY SOURCED & CRAFTED:
My stones are collected as pebbles on my own property, not mined.
I have been carving stone beads from southern Arizona rocks since 2010,
one at a time, using machine grinding and hand-polishing techniques.
Holes are bevelled and polished, so the pieces can be strung safely on many different materials:
Hemp, silk, or cotton cords, leather, fabric, or even hair.
Pendants come with a black or natural 2mm leather cord.
THE STONES
LASTWATER GRANITE
Cut from hundred-year-old chips from a historic granite quarry that was a source for gravestones in Tucson, AZ in the early 20th century.
The rock is unique for its extremely fine grain size and soft gray color.
LASTWATER GREENSTONE
Metamorphosed basaltic intrusions in diorite and white granite. The Lastwater Granite intrudes this rock.
Iron-magnesium silicates such as chlorite mica, epidote, and hornblende give a dark grayish-green color.
TREMOLITE CALCSILICATE "JAGUAR STONE":
This very hard, opaque, colorful rock is composed of silica (agate) and tremolite, the same mineral as nephrite jade.
Calcsilicates are "contact metamorphics" that crystallize in a reaction zone when granite intrudes limestone.
The look and feel of polished pieces is similar to jade, but this rock has a different geological origin from the "true" jades.
RHYOLITE: The volcanic equivalent of granite, this gray, pink, purple, or dark red rock is abundant in the Santa Ritas,
including the summit of Mount Wrightson and many of the large boulders in Madera Canyon.
Rhyolite pebbles in the wash at Lastwater are usually dark purple or bright pink.

Lastwater Granite disc with Greenstone beads: $225
DISC: 2 3/16" across. 1/8" thick at top, 3/16" thick at bottom.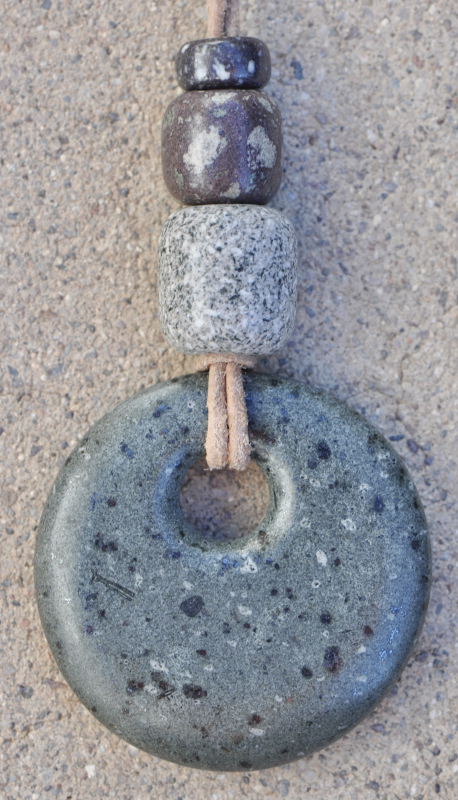 Lastwater Greenstone disc with Granite and Rhyolite beads. $225
DISC: 2" across, 1/4" thick at top, 3/8" thick at bottom.


Lastwater Jaguar Stone (Tremolite Calcsilicate) with Quartzite Bead: $260
1 11/16" long (just under 1 3/4") x 13/16" wide x 1/8" thick.
Dark brownish-black with bluish-green edge stripe from the natural weathering rind.
Bicolored pink/purple quartzite bead.

Lastwater Jaguar Stone (Tremolite Calcsilicate) with Granite/Epidote Bead: $225
2.5" long x 1" wide x 3/8" thick.
Mottled brown with pink/green/white patch; green is from tiny epidote, diopside, and chlorite crystals.
Bead is fine-grained pink/black/green granite from Agua Caliente Canyon in the Santa Rita Mountains.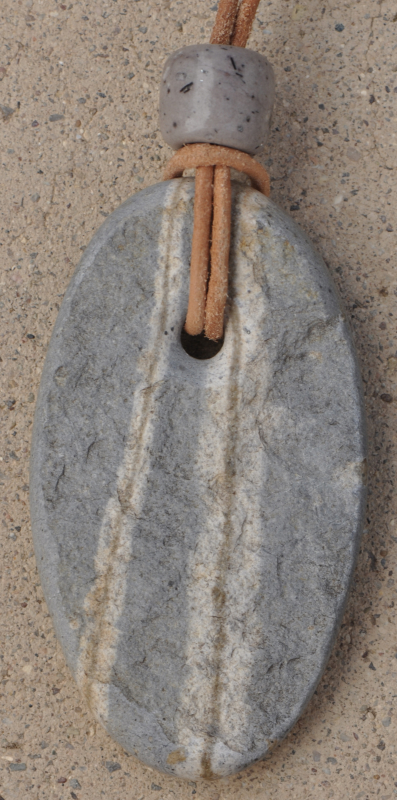 Rhyolite Natural Surface with Polished Edge and Rhyolite Bead: $130
2. 1/2" long x 1 1/2" wide x 1/8 - 1/4" thick.
One-of-a-kind natural rhyolite flake. Polished on the edge and hole only.
All work, photos, and text copyright 2021 by Lorena Babcock Moore.
Artwork HOME