The Lastwater Collection
Art from Lastwater Sanctuary, a private nature preserve
in the northern Santa Rita Mountains, Arizona.
All work by Lorena Babcock Moore, artist/geologist.
HOW TO PURCHASE:
E-mail
PAYMENT TERMS: Paypal only, US dollars, US addresses only.
Prices do not include postage.
SHIPPING: USPS Priority Mail.
NO RETURNS. I try to describe and photograph items accurately.
I welcome questions and am happy to supply additional photos or information about my work.
In the Tucson/Green Valley/Vail area, pickup MAY be an option; please inquire.

ETHICALLY SOURCED & CRAFTED:
Stones are collected as pebbles on my property, not mined.
I have been carving stone beads from southern Arizona rocks since 2010,
one at a time, using machine grinding and hand-polishing techniques.
Holes are bevelled and polished, so the pieces can be strung safely on many different materials:
Hemp, silk, or cotton cords, leather, fabric, or even hair.
Pendants come with a natural 2mm leather cord or 1mm black woven cotton cord.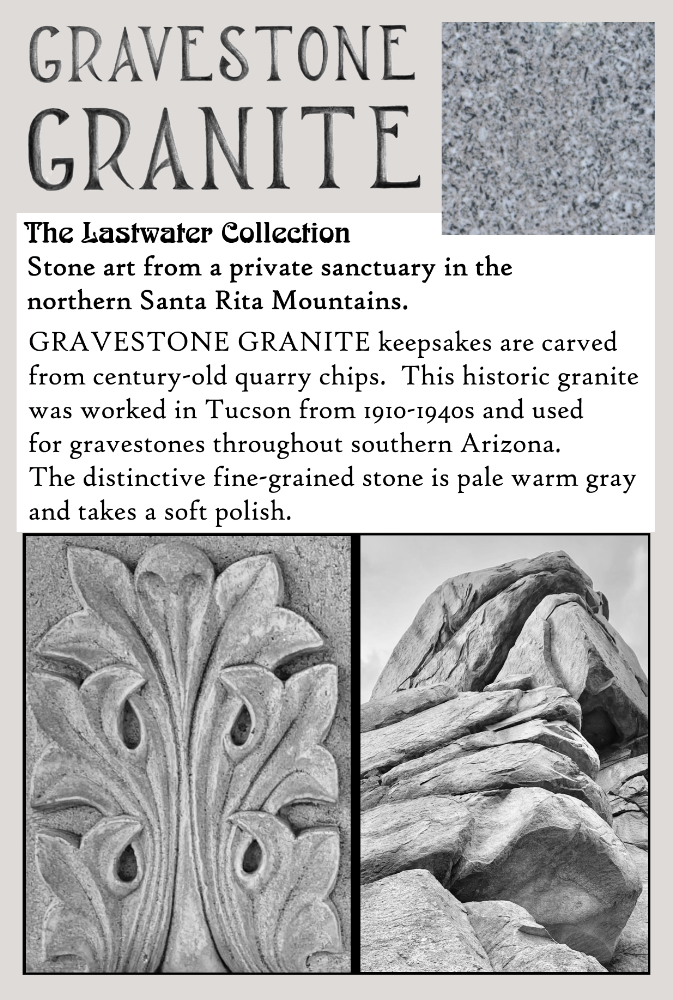 THE STONES
LASTWATER GRANITE
The rock is unique for its extremely fine grain size, excellent carving properties, pale warm gray color, and
granophyric texture (interlocking quartz and feldspar crystals, called "graphic granite" in larger grain sizes).
LASTWATER GREENSTONE
Metamorphosed basaltic intrusions in diorite and white granite. The Lastwater Granite intrudes this rock.
Iron-magnesium silicates such as chlorite mica, epidote, and hornblende give a dark grayish-green color.
Basaltic dikes occur in granite throughout the Santa Ritas, but most are small and often deeply weathered.
The Lastwater intrusions are unusually large and well exposed.
TREMOLITE CALCSILICATE "JAGUAR STONE":
This very hard, opaque, colorful rock is composed of silica (agate) and tremolite, the same mineral that forms nephrite jade.
Calcsilicates are "contact metamorphics" that crystallize in a reaction zone when granite intrudes limestone.
The look and feel of polished pieces is similar to jade, but this rock has a different geological origin from the "true" jades.
RHYOLITE: This volcanic equivalent of granite is abundant in the Santa Ritas,including upper Madera Canyon and the summit of Mount Wrightson.
Rhyolite pebbles in the wash at Lastwater are usually dark purple or bright pink.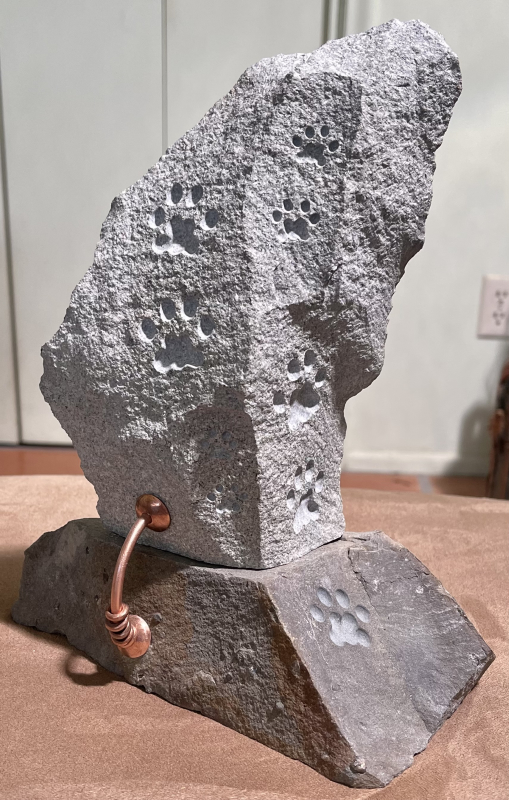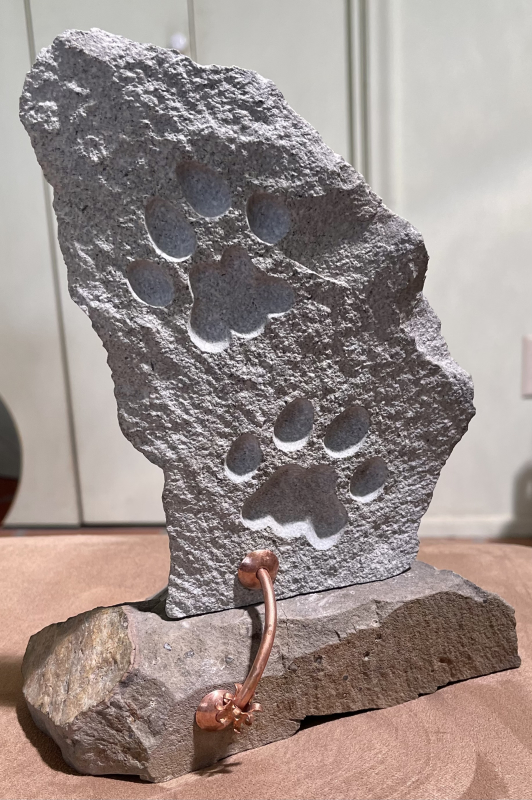 Lastwater Granite and Greenstone: Feline memorial sculpture. PRICE: Please inquire.
Accurately carved domestic cat and kitten pawprints on one side (including the greenstone base) and mountain lion tracks on the other.
The granite "spall" or quarry chip, flaked off with a chisel during the shaping of a gravestone, is untouched except for grinding the bottom flat.
The greenstone base is completely natural. The granite is permanently attached to the base.
Copper recycled scrap: sheet, 6-gauge electrical grounding wire, and beads made from tubing from an evaporative cooler.
9.25" tall. Available for SALE or temporary EXHIBITION; serious inquiries only please.

Lastwater Granite disc with Black Basalt and White Agate beads. $225
DISC: 2 3/8" across, 1/8" thick at top, 1/4" thick at bottom.
Thin, flat, polished disc with convex polished edge, slightly thicker at the bottom.
The black bead is from a basalt intrusion in granite of the Corona Stock, about a mile from Lastwater Quarry.
The translucent, slightly milky agate bead has a small white spot (left side of bead in photo).
This type of agate is found in many Arizona localities and is typically white to colorless; it sometimes hosts "fire agate" (iridescent brown goethite inclusions).
African bronze bead from Benin (1995 Tucson Gem Show purchase, African Art Village).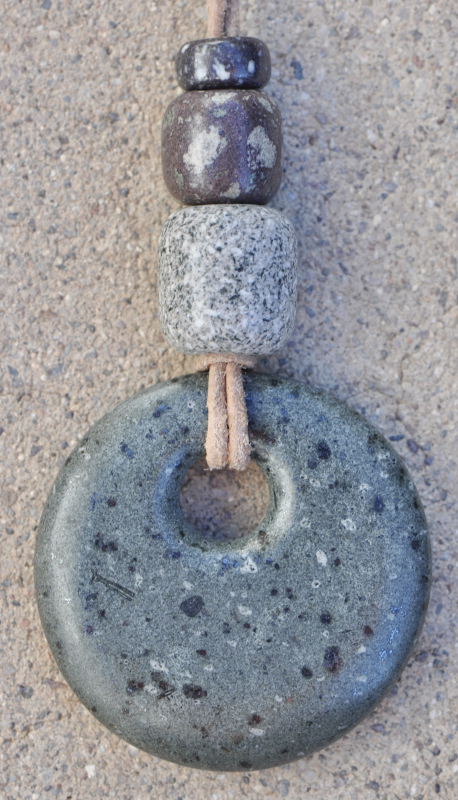 Lastwater Greenstone disc with Lastwater Granite and Porphyritic Rhyolite beads. $225
DISC: 2" across, 1/4" thick at top, 3/8" thick at bottom.


Lastwater Jaguar Stone (Tremolite Calcsilicate) with Quartzite Bead: $260
1 11/16" long (just under 1 3/4") x 13/16" wide x 1/8" thick.
Dark brownish-black with bluish-green edge stripe from the natural weathering rind.
Bicolored pink/purple quartzite bead.

Lastwater Jaguar Stone (Tremolite Calcsilicate) with Granite/Epidote Bead: $225
2.5" long x 1" wide x 3/8" thick.
Mottled brown with pink/green/white patch; green is from tiny epidote, diopside, and chlorite crystals.
Bead is fine-grained pink/black/green granite from Agua Caliente Canyon in the Santa Rita Mountains.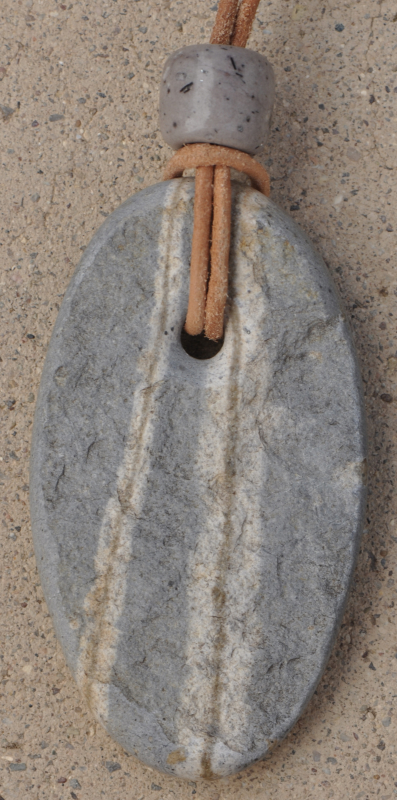 Rhyolite Natural Surface with Polished Edge and Rhyolite Bead: $130
2. 1/2" long x 1 1/2" wide x 1/8 - 1/4" thick.
One-of-a-kind natural rhyolite flake. Polished on the edge and hole only.
All work, photos, and text copyright 2021-2022 by Lorena Babcock Moore.
Artwork HOME