Flora of the Empire Mountains and Davidson Canyon
Pima County, Arizona
DISCUSSION
Lorena B. Moore, 2010

Empire Mountains Flora: CHECKLIST
Southern Arizona Desert Botany HOME
Empire Mountains, AZ. The plant list covers the
area shown, excluding the SE corner and the land
W of SR 83. Davidson Canyon is just E of 83.

The Empire Mountains are located between the Santa Rita, Rincon, and Whetstone Mountains. They are bordered on the west by the upper reaches of Davidson Canyon, a major seasonally-dry wash, and on the east by the broad valley of Cienega Creek. The geology can be confusing, with a variety of rock types criss-crossed by so many faults that the mountains have an unusually random appearance, with no discernible structural control or dominant rock type. Elevation ranges from about 3800 feet on the northern flats to 5588 at the top of the highest peak. Most of the plants in the photos were growing near 4500 feet. The Empires receive less rainfall than the surrounding "sky island" ranges, especially in summer, so they are a little drier than corresponding elevations in the higher mountains. For a small, dry mountain range with modest elevation changes and no perennial streams, the Empires hold a surprising diversity of native plants. Why?

1. Geography: The Empires are too high to be a "desert range" and too low to be a "sky island". But they are located within a unique botanical crossroads in the transition zone between Sonoran desert upland and Chihuahuan desertscrub. The mosaic of plant communities also includes desert grassland, juniper grassland, limestone chaparral, encinal, and minor riparian zones (Davidson Canyon and its largest tributaries). Three Sonoran Desert icons reach the eastern edge of their ranges here: Carnegia gigantea, Vauquelinia californica, and Jatropha cardiophylla. The Chihuahuan shrubs Rhus microphylla and Quercus pungens are near their western limit. All five species are important and comspicuous elements of the Empire flora. The mountains are also home to 20 cactus species and two Cylindropuntia hybrids.
2. Geology: Faulting juxtaposes slivers of many rock types within a small area: rounded granite tors, rugged volcanic knobs, long limestone and marble ridges, crumbling shaley washes, and sedimentary layers of quartzite, arkose, and poorly-cemented conglomerate. The diverse rock types make the Empires a rich haven for flowering shrubs and xerophytic ferns. Most of the 17 fern taxa that I have recorded in the Empires so far are relatively common species, broadly distributed in southern Arizona and sometimes beyond. The following species can be expected in the Empires but I have not yet found them there: Notholaena standleyi, Cheilanthes bonariensis, C. villosa, C. yavapensis.
3. Human history: Like much of southern Arizona, the Empires have a two-century history of intense human activity that has completely and permanently altered the landscape, making it unfit for some of the plant communities that existed here prior to European settlement, or in some cases for any plants at all. There has been a general recovery within the last hundred years, although degradation due to human activity has continued (or resumed) in some areas. But a few places have remained ungrazed and unburned for many years, so their vegetation is denser, older, more diverse, and more "natural" than most southern Arizona landscapes at similar elevations.

PHOTO GALLERY
This is a sampler of Empire Mountains landscapes.
It will evolve into a more systematic catalog of plant communities as the flora list is completed.
Limestone-Marble Chaparral: Vauquelinia californica, Mortonia scabrella, Ceanothus
greggii, Dalea formosa. Not in photo: Quercus pungens, Rhus virens, Parthenium incanum.
A Thorny Giant: Old Catclaw, Acacia greggii, in desertscrub.
A Limestone-Marble Hill. Quercus pungens (center), Mortonia scabrella
(bottom), Vauquelinia californica (top). Wildflowers found here include:
Dalea formosa, Lesquerella fendleri, Allium macropetalum.
Bosque. Celtis laevigata, Quercus turbinella, Q. arizonica, Morus microphylla, Fraxinus velutina.
Grove of trees in a tributary to Davidson Canyon, surrounded by mesquite-acacia desertscrub.
Dark trees on far hillslope are Vauquelinia californica.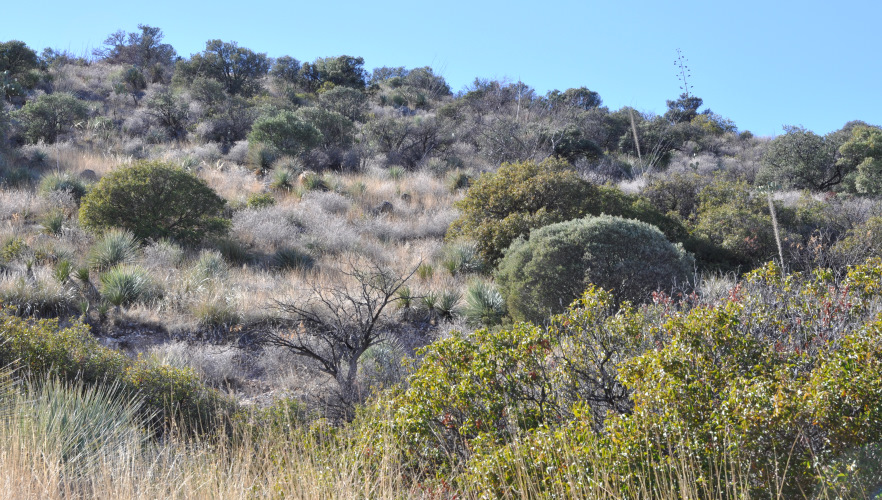 Old-growth chaparral community near the Total Wreck Mine. Vauquelinia californica (dark grayish green bushes), Rhus virens
(foreground), Quercus pungens (leafless). Succulents are Agave palmeri, Nolina microcarpa, and Dasylirion wheeleri.
Granite Tors. Gnarled Mexican Blue Oaks (Quercus oblongifolia) and treelike prickly pears (Opuntia chlorotica) grow among picturesque rounded granite outcrops.
Between the tors, canyons and sandy granite-floored washes hide spring wildflowers, including Mimulus guttatus, Centaurium arizonicum, Mirabilis linearis, and others.
Rocky Washes. Tributaries to Davidson Canyon in juniper grassland. The two large deciduous trees are velvet ash (Fraxinus velutina). Although dry except after heavy rains,
these meandering canyons shelter desert ferns, post-monsoon wildflowers (Tetramerium nervosum, Dicliptera resupinata, Eupatorium greggii, Abutilon, Brickellia, etc.)
and large trees (velvet ash, Arizona white oak, soapberry, mulberry, and canyon hackberry). They offer a variety of rock types and microclimates in close juxtaposition.
Davidson Canyon: Riparian trees, rock cliffs,
seasonal flowing water, and saguaros.
A Limestone Ridge: Agave palmeri flower spikes.
Saguaros on the south-facing side of a limestone ridge.
Rockmat (Petrophytum caespitosum) grows on the cooler parts of the ridge.
Saguaros in desert scrub in a small wash near Davidson Canyon. Mt. Fagan in background.
The dark green bushes are snakewood (Condalia warnockii).
ABOUT THE EMPIRE MOUNTAINS FLORA CHECKLIST:
This project is the result of many hikes since April 2007. Much of the land in the Empires is privately owned,
so at this time the list covers mostly BLM and State lands. It is incomplete, but more plants and photos will be
added later this year. The list is also useful for the north end of the Santa Ritas (Mount Fagan and the northern
bajada, including Sycamore Canyon and Corona de Tucson), the Whetstone and Mustang Mountains, and
Las Cienegas NCA. The list is designed for a general audience and has simple, nontechnical descriptions
to help with plant identification.

Text, photos, and plant list by Lorena Babcock Moore, 2010.
E-mail


PHOTO: Echinomastus erectocentrus var. erectocentrus Needlespine Cactus